Welcome to Lake Morey 
Located in Fairlee, Vermont, the Lake Morey Protective Association (LMPA), founded in 1907, is working to preserve the pristine beauty of Lake Morey and promote recreational and social opportunities for its members.
Join visiting families, friends and residents in activities focused on the lake and its environs. Volunteer for the greeter program, report adopt-a-lake hours, and help at an event. Learn to identify invasive species and maintain an ecologically-sound, environmentally-friendly waterfront.
Enjoy all Lake Morey and its surroundings have to offer!
---
Notice: 
There's "something fishy" going on
Many of you have been witness to dead fish washing up on the shores of Lake Morey. The Vermont Department of Fish and Wildlife were contacted and have conducted a review of the situation. They have concluded that the fish suffered from  acombination of post spawning stress, increasing water temperatures and resultant columnaris infection, a common fish bacterial disease. The entire report is available here:  Lake Morey – Fish Kill
---
Announcement:
Lake Morey Protective Association Annual Meeting
Saturday, July 13, 2019
4:00 pm, Lake Morey Resort
LMPA will host a social hour at the Resort after the meeting. Join us for hors d'oeuvres & cash bar.
---
Dear Fairlee and Lake Morey Community,
The Board of Directors of the Lake Morey Protective Association is always looking for ways to enhance collaboration in Fairlee. While we've sponsored a "Fairlee Family Fun Day" picnic in the past, attendance has declined in recent years.
This year we are pleased to announce that we will be sponsoring a joint effort with the Fairlee Public Library and the Gladstone Creamery to offer vouchers for ice cream to young readers who participate in the Summer Reading Program.
In addition, all members of the Lake Morey Community are invited to join the fun at the Public Library on August 3, 2019 at 1 PM to celebrate the readers' success with an an Ice Cream Social.
Come prepared to eat ice cream, greet your neighbors, and to celebrate reading and resources at the Fairlee Public Library!
---

2019 Lake Morey "Blue Map" will be available at Annual Meeting
First off, we recognize Marjie and Bill Scott for the two-plus decades they spent maintaining, updating and
further developing our beloved Lake Morey map! It has been because of their attention, imagination and
courage that the map has evolved to be what it has become, currently known as the "Blue" map around
town. We all appreciate and love the changes that have taken place over the years. Again, thank you
Marjie & Bill.
Next, we would like to thank Smith Reed for taking on the project of researching and updating the map. He has also provided a list of the updates that have been made:  Comments regarding the 2019 Lake Morey Map Changes
The maps will be available for a donation of $10 each.
---
TURTLES ON THE ROADWAY NEED YOUR HELP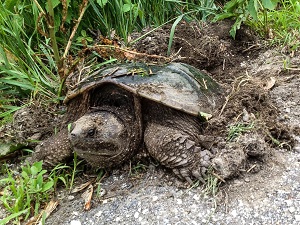 Vermont's turtles on are on the move again this spring, and Vermont Fish & Wildlife Department is asking for the public's help in keeping them safe.  Female turtles are looking for places to deposit their eggs, sometimes choosing to lay them along the shoulders of roads, bringing them into the path of fast-moving vehicles.
"Turtles often go across roads as they search for a nest site," said Steve Parren, biologist for the Vermont Fish & Wildlife Department.  "They are slow-moving animals, so they have a tough time making it safely across the road.  Turtles grow slowly and live a long time, so losing a mature breeding female is a huge loss to the turtle population."
Turtle nesting activity peaks this time of year, and drivers are urged to keep an eye out for turtles in the road – especially when driving near ponds and wetlands.  Read More….
---